Best Professional Movers in Atlanta
It's not every day you make a big move. That's why Bobadilla's Signature Moving is here to make this transition as easy as possible for you. You won't even need to lift a finger!
Atlanta's Best Moving Company
It's no secret that moving is painful. We strive to give you one less thing to worry about when moving your belongings to their new location.
We've brought the joy back to moving day (and got rid of the stress). So whether you're moving cross-town or cross-country, residential or commercial, Bobadilla's Signature Moving is the only Atlanta moving company that gives you a truly moving experience. Because our people move with heart.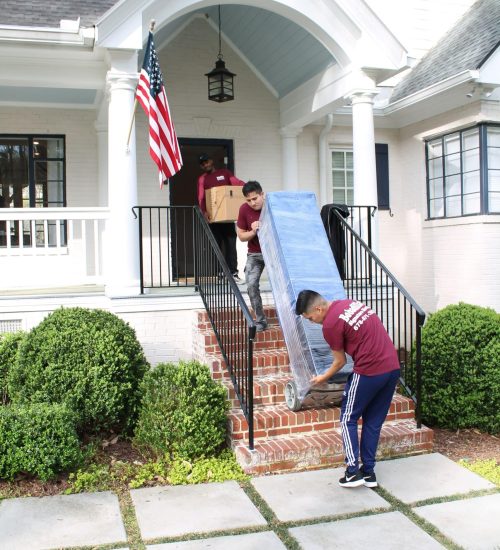 Our Atlanta moving company came about after my wife, children, and I had a family meeting in our home. We knew we needed to help other families and people from all walks of life in their moving endeavors.
I have been in the moving industry for more than 20 years and wanted to provide a better moving experience & quality service to customers living in the Atlanta metro area. We humbly started with one moving truck where my two children and I began moving clients to their new location.
We started out working from the basement of our home, but as time went by, our company began to successfully grow.
After 10 years of being in business, we have expanded our premier moving company and are proud of how much we have accomplished thus far.
We now offer any type of residential or commercial moving services whether its locally or nationally within the United States. We have the experience to deal with any type of move whether you're moving from a house, townhouse, apartment, senior living home, condominiums, storage units, and more.
As a family-owned business, we value being professional, trustworthy, and reliable in every move we complete.
Our goal is to provide a stress free and ultimate moving experience that exceeds our customers' expectations. We take pride in accommodating and customizing any move that will align to our customers moving needs, big or small.
…Well we are the best movers in Atlanta! And we intend to keep it that way. That is why we are dedicated to making your life a little bit easier by taking that weight off of your shoulders. Literally. 
Used their services to move items from home to a storage unit. They packed items very well and stored them securely in the storage unit. A few months later, used their services to move items out of the storage unit to another state. Besides a hiccup on the start time, the movers didn't delay starting. Handled items with care. Packed these truck efficiently and securely. Items remained in truck until they arrived in another state safely. I've already recommended Bobadilla's for another out of state move.
Shalonda Cargill
Google Review
From start to finish this was the BEST moving experience we have ever had. Communication was easy. Jesse, Franklin, Jose and Alan showed up on time, were friendly, responsive and took great care of our furniture (even individually wrapping every chair or large piece. They worked hard, were carful not to damage doors or walls and were a complete pleasure. There prices were highly competitive. I would recommend them in a heartbeat.
Marci Joel
Google Review
Today we used Bobadilla Movers to move all our word possessions out of both storage and rental home. Jesse, Franklin, Jose and Allen were nothing short of amazing. Hard working, polite, on time, respectful of our things, and our floors and walls!! i could go on and on. We've moved many times and we've never had such a great experience. AND they were very reasonably priced. I highly highly recommend Bobadilla's for the most professional move experience.
Darren Joel
Google Review
The team did a great job with taking care of the furniture best that they could. It's hard to find a moving company that you're happy with and would recommend. I would do both with Bobadilla's!
Martin L
Google Review
I used Bobadilla's for a multi- day intown move which included delivery to an out of town second home as well. It was a complicated move, but everything went as planned. They were on time and the price was as as quoted. They were friendly, quiet, efficient, and very careful with my belongings. I have never worked with a more hardworking working group of movers. Hire them. They are fabulous!
Jeanene Weiner
Google Review
This company was recommended to me by a friend and I'm glad I used them. They are very responsive over email and phone. Alan and his crew moved my belongings on 2 separate occasions. Each time, Alan and his crew were professional, polite, quick, and took good care of my things. I will use them again and recommend this company to others.
Preeti Rao
Google Review
Moving can be one of the most stressful projects. Luckily, when you hire Bobadilla's Signature Moving as your moving company, you'll be stress-free. Our team of professional movers will get all of your belongings to your destination safely and effectively.